Veterans Adminstration
Subscribe to posts
A visitor leaves the Sacramento Veterans Affairs Medical Center in Rancho Cordova, Calif., on April 2, 2015. 
Rich Pedroncelli/AP Stars and Stripes 
|
Oct 01, 2016
|
by Nikki Wentling
WASHINGTON -- Roughly $110 million in payments to thousands of housebound veterans was withheld from them by the
Department of Veterans Affairs
, according to a new report from VA inspector general's office.
The IG report found approximately 186,000 veterans as of March 2015 were designated as housebound because of illness or injury with errors in payments to about 33,400 of them. Others did receive payments, but they were delayed anywhere from five days to six years.
The report also found some veterans who were not designated as housebound received $44.3 million in money meant for housebound veterans.
"Staff did not accurately address housebound benefits," the report concluded. "As a result, some veterans did not receive benefits to which they were entitled, while taxpayer funds were wasted paying other veterans who did not meet the eligibility criteria."
The IG report blamed the errors on a faulty electronic system, poor training and management allowing VA staff to "arbitrarily decide these claims."
This is not the first time that VA's technology has been criticized. In its final report released in the summer, the Commission on Care -- a board established to propose recommendations for VA reform -- called the VA's technology "antiquated" and "disjointed." The commission called for a new system that would, in part, better allow the health care side of VA to communicate with staffers making benefits decisions.
In response to the IG report, the VA's office of the undersecretary for benefits said it was working on technology changes. The office also said it would start an annual review of benefits going to housebound veterans. The first review is scheduled for October.
Meanwhile, Michael Missal, the VA's new inspector general, told a House committee earlier this week that he's working to expand inspections into the VA's benefits programs. The committee met about another IG report that found veterans in prison had received $104 million in overpayments between 2008 and 2015.
The IG now has three teams dedicated to reviewing the Veterans Benefits Administration, Missal told the committee.
In this latest report, the IG cited one example of a veteran who had one illness or injury rated as 100 percent disabling, plus other disabilities. As of February 2015, the veteran was being underpaid by about $350 per month. During nine years, the VA had not paid $36,100 to the veteran. The error was fixed in October 2015.
In another case, a veteran who was temporarily housebound continued receiving extra payments even after he had recovered. He had been overpaid approximately $154,000 during four and a half years, the report stated. The VA corrected the payments in May.
Besides updating some of its technology and starting an annual review of housebound benefits, the VA said it would require more training. The changes will be put into effect in the remainder of 2016, according to the VA's response.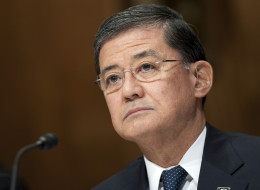 WASHINGTON (AP) — A House committee voted Thursday to subpoena records relating to a waiting list at the Phoenix veterans hospital, and officials said Veterans Affairs Secretary Eric Shinseki had ordered a nationwide audit of access to care that the agency provides.
Meanwhile, Shinseki brushed aside calls for his resignation and got an unexpected political lifeline from House Speaker John Boehner following reports that 40 patients died because of delayed treatment at an agency hospital.
The American Legion and some in Congress have called for Shinseki's ouster following allegations of patient deaths at the Phoenix VA hospital due to delays in care and of a secret list the hospital kept of patients waiting for appointments to hide the delays.
The House Veterans Affairs Committee voted unanimously to subpoena all emails and other records in which Shinseki and other VA officials may have discussed destruction of what the committee called "an alternate or interim waitlist" for veterans seeking care in Phoenix.
A top VA official had told congressional staff last month that the "secret list" referred to in news reports may have been an "interim list" created by the hospital. And the committee had asked the VA on May 1 to answer why it was created, when it was destroyed, who authorized destruction and under what authority.
Shinseki answered in a letter Wednesday that VA employees used "transitory or interim notes ... for reference purposes" as they were moving information to the new electronic waitlist system. Regulations of the National Archives and Records Administration require that such notes be destroyed when they are no longer needed for reference, the VA says.
Dissatisfied with that response, the committee subpoenaed all documents relating to the destruction and gave Shinseki until 9 a.m. May 19 to produce them. The VA said in a statement that it will review the subpoena and respond.
Earlier Thursday, Shinseki told CBS that he sent inspectors to Phoenix immediately after he learned of reports about the deaths. "I take every one of these incidents and allegations seriously, and we're going to go and investigate," he said.
The VA also announced Thursday that Shinseki had ordered the Veterans Health Administration last month to do a "a face-to-face" audit at all clinics at VA medical centers to make sure employees understand VA's policy and the need for continued integrity in managing patient access to care.
And at a Capitol Hill news conference, Boehner, R-Ohio, said: "I'm not ready to join the chorus of people calling on him to step down." He added that there is a "systemic management issue throughout the VA that needs to be addressed."
Shinseki announced last week that three officials at the Phoenix facility have been placed on leave while the VA inspector general investigates.
The Department of Veterans Affairs has long had a seemingly endless backlog and exceedingly long delays for treatment.
Boehner said the House is working on legislation that would give the head of the agency "more flexibility to fire people."
The White House has voiced support for Shinseki amid the calls for his ouster from the American Legion as well as from Republican Sens. Richard Burr of North Carolina, John Cornyn of Texas and Jerry Moran of Kansas. Veterans groups are split on whether he should resign.
White House spokesman Josh Earnest said President Barack Obama has full confidence in Shinseki. He said Shinseki shares the president's passion for living up to the commitment that the U.S. has made to its veterans.
Earnest told reporters traveling with Obama in California that the VA has made tremendous progress in reducing the case backlog. He said while the backlog is moving in the right direction, the White House won't be satisfied until it is eliminated.
Numbering more than 600,000 when it hit its high point in March 2013, the backlog in VA cases had been cut in half to 308,000 by early May, the VA said. The department deems cases to be part of the backlog once they've gone 125 days without being processed. The VA said it completed more than 500,000 of its oldest claims last year.
At the same time, the VA has acknowledged that 23 patients have died as a result of delayed care in recent years. The VA's Office of Medical Inspector said clerks at a Fort Collins, Colorado, clinic were instructed last year on how to falsify appointment records. Other problems have occurred in Pittsburgh, Atlanta and Augusta, Georgia.
___
Associated Press writers David Espo and Josh Lederman in Washington and Jim Kuhnhenn in Los Angeles contributed to this report.
(CNN) -- At least 40 U.S. veterans died waiting for appointments at the Phoenix Veterans Affairs Health Care system, many of whom were placed on a secret waiting list.
The secret list was part of an elaborate scheme designed by Veterans Affairs managers in Phoenix who were trying to hide that 1,400 to 1,600 sick veterans were forced to wait months to see a doctor, according to a recently retired top VA doctor and several high-level sources.
For six months, CNN has been reporting on extended delays in health care appointments suffered by veterans across the country and who died while waiting for appointments and care. But the new revelations about the Phoenix VA are perhaps the most disturbing and striking to come to light thus far.
Internal e-mails obtained by CNN show that top management at the VA hospital in Arizona knew about the practice and even defended it.
Dr. Sam Foote just retired after spending 24 years with the VA system in Phoenix. The veteran doctor told CNN in an exclusive interview that the Phoenix VA works off two lists for patient appointments:
There's an "official" list that's shared with officials in Washington and shows the VA has been providing timely appointments, which Foote calls a sham list. And then there's the real list that's hidden from outsiders, where wait times can last more than a year.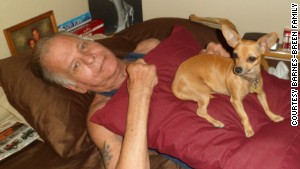 Deaths tied to VA hospital's secret list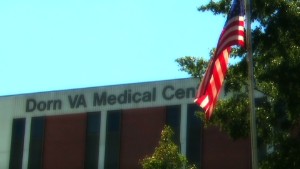 Veterans dying waiting for healthcare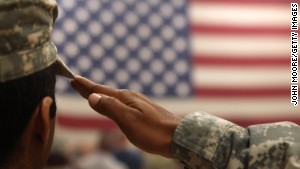 Are we fulfilling our promise to veterans?
Deliberate scheme, shredded evidence
"The scheme was deliberately put in place to avoid the VA's own internal rules," said Foote in Phoenix. "They developed the secret waiting list," said Foote, a respected local physician.
The VA requires its hospitals to provide care to patients in a timely manner, typically within 14 to 30 days, Foote said.
According to Foote, the elaborate scheme in Phoenix involved shredding evidence to hide the long list of veterans waiting for appointments and care. Officials at the VA, Foote says, instructed their staff to not actually make doctor's appointments for veterans within the computer system.
Instead, Foote says, when a veteran comes in seeking an appointment, "they enter information into the computer and do a screen capture hard copy printout. They then do not save what was put into the computer so there's no record that you were ever here," he said.
According to Foote, the information was gathered on the secret electronic list and then the information that would show when veterans first began waiting for an appointment was actually destroyed.
"That hard copy, if you will, that has the patient demographic information is then taken and placed onto a secret electronic waiting list, and then the data that is on that paper is shredded," Foote said.
"So the only record that you have ever been there requesting care was on that secret list," he said. "And they wouldn't take you off that secret list until you had an appointment time that was less than 14 days so it would give the appearance that they were improving greatly the waiting times, when in fact they were not."
I feel very sorry for the people who work at the Phoenix VA. They all wish they could leave 'cause they know what they're doing is wrong.


Dr. Sam Foote
Foote estimates right now the number of veterans waiting on the "secret list" to see a primary care physician is somewhere between 1,400 and 1,600.
Doctor: It's a 'frustrated' staff
"I feel very sorry for the people who work at the Phoenix VA," said Foote. "They're all frustrated. They're all upset. They all wish they could leave 'cause they know what they're doing is wrong.
"But they have families, they have mortgages and if they speak out or say anything to anybody about it, they will be fired and they know that."
Several other high-level VA staff confirmed Foote's description to CNN and confirmed this is exactly how the secret list works in Phoenix.
Foote says the Phoenix wait times reported back to Washington were entirely fictitious. "So then when they did that, they would report to Washington, 'Oh yeah. We're makin' our appointments within -- within 10 days, within the 14-day frame,' when in reality it had been six, nine, in some cases 21 months," he said.
November: A dire situation in South Carolina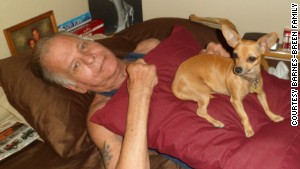 Thomas Breen was so proud of his time in the Navy that he wanted to be treated only at a VA facility, his family says.
In the case of 71-year-old Navy veteran Thomas Breen, the wait on the secret list ended much sooner.
"We had noticed that he started to have bleeding in his urine," said Teddy Barnes-Breen, his son. "So I was like, 'Listen, we gotta get you to the doctor.' "
Teddy says his Brooklyn-raised father was so proud of his military service that he would go nowhere but the VA for treatment. On September 28, 2013, with blood in his urine and a history of cancer, Teddy and his wife, Sally, rushed his father to the Phoenix VA emergency room, where he was examined and sent home to wait.
"They wrote on his chart that it was urgent," said Sally, her father-in-law's main caretaker. The family has obtained the chart from the VA that clearly states the "urgency" as "one week" for Breen to see a primary care doctor or at least a urologist, for the concerns about the blood in the urine.
"And they sent him home," says Teddy, incredulously.
Sally and Teddy say Thomas Breen was given an appointment with a rheumatologist to look at his prosthetic leg but was given no appointment for the main reason he went in.
The Breens wait ... and wait ... and wait ...
No one called from the VA with a primary care appointment. Sally says she and her father-in-law called "numerous times" in an effort to try to get an urgent appointment for him. She says the response they got was less than helpful.
"Well, you know, we have other patients that are critical as well," Sally says she was told. "It's a seven-month waiting list. And you're gonna have to have patience."
Sally says she kept calling, day after day, from late September to October. She kept up the calls through November. But then she no longer had reason to call.
Thomas Breen died on November 30. The death certificate shows that he died from Stage 4 bladder cancer. Months after the initial visit, Sally says she finally did get a call.
"They called me December 6. He's dead already."
Sally says the VA official told her, "We finally have that appointment. We have a primary for him.' I said, 'Really, you're a little too late, sweetheart.' "
At the end is when he suffered. He screamed. He cried.


Sally Brenn on the death of her father-in-law
Sally says her father-in-law realized toward the end he was not getting the care he needed.
"At the end is when he suffered. He screamed. He cried. And that's somethin' I'd never seen him do before, was cry. Never. Never. He cried in the kitchen right here. 'Don't let me die.' "
Teddy added his father said: "Why is this happening to me? Why won't anybody help me?"
Teddy added: "They didn't do the right thing." Sally said: "No. They neglected Pop."
First hidden -- and then removed
Foote says Breen is a perfect example of a veteran who needed an urgent appointment with a primary doctor and who was instead put on the secret waiting list -- where he remained hidden.
Foote adds that when veterans waiting on the secret list die, they are simply removed.
"They could just remove you from that list, and there's no record that you ever came to the VA and presented for care. ... It's pretty sad."
Foote said that the number of dead veterans who died waiting for care is at least 40.
"That's correct. The number's actually higher. ... I would say that 40, there's more than that that I know of, but 40's probably a good number."
CNN has obtained e-mails from July 2013 showing that top management, including Phoenix VA Director Sharon Helman, was well-aware about the actual wait times, knew about the electronic off-the-books list and even defended its use to her staff.
I think it's unfair to call any of this a success when Veterans are waiting 6 weeks on an electronic waiting list


From 2013 Phoenix VA e-mail obtained by CNN
In one internal Phoenix VA e-mail dated July 3, 2013, one staffer raised concerns about the secret electronic list and raised alarms that Phoenix VA officials were praising its use.
"I have to say, I think it's unfair to call any of this a success when Veterans are waiting 6 weeks on an electronic waiting list before they're called to schedule their first PCP (primary care physician) appointment," the e-mail states. "Sure, when their appointment is created, it can be 14 days out, but we're making them wait 6-20 weeks to create that appointment."
The e-mail adds pointedly: "That is unethical and a disservice to our Veterans."
Last year and earlier this year, Foote also sent letters to officials at the VA Office of the Inspector General with details about the secret electronic waiting list and about the large number of veterans who died waiting for care, many hidden on the secret list. Foote and several other sources inside the Phoenix VA confirmed to CNN that IG inspectors have interviewed them about the allegations.
VA: 'It is disheartening to hear allegations'
CNN has made numerous requests to Helman and her staff for an interview about the secret list, the e-mails showing she was aware of it and the allegations of the 40 veterans who died waiting on the list, to no avail.
But CNN was sent a statement from VA officials in Texas, quoting Helman.
"It is disheartening to hear allegations about Veterans care being compromised," the statement from Helman reads, "and we are open to any collaborative discussion that assists in our goal to continually improve patient care."
Just before deadline Wednesday, the VA sent an additional comment to CNN.
It stated, in part: "We have conducted robust internal reviews since these allegations surfaced and welcome the results from the Office of Inspector General's review. We take these allegations seriously."
The VA statement to CNN added: "To ensure new Veterans waiting for appointments are managed appropriately, we maintain an Electronic Wait List (EWL) in accordance with the national VHA Scheduling Directive. The ability of new and established patients to get more timely care has showed significant improvement in the last two years which is attributable to increased budget, staffing, efficiency and infrastructure."
Foote says Helman's response in the first statement is stunning, explaining the entire secret list and the reason for its existence was planned and created by top management at the Phoenix VA, specifically to avoid detection of the long wait times by veterans there.
"This was a plan that involved the Pentad, which includes the director, the associate director, the assistant director, the chief of nursing, along with the medical chief of staff -- in collaboration with the chief of H.A.S."
Washington is paying attention
The Phoenix VA's "off the books" waiting list has now gotten the attention of the U.S. House Veterans Affairs Committee in Washington, whose chairman has been investigating delays in care at veterans hospitals across the country.
According to Rep. Jeff Miller, chairman of the House Committee on Veterans' Affairs, what was happening in Phoenix is even worse than veterans dying while waiting for care.
Even as CNN was working to report this story, the Florida Republican demanded the VA preserve all records in anticipation of a congressional investigation.
In a hearing on April 9, Miller learned even the undersecretary of health for the VA wasn't being told the truth about the secret list:
"It appears as though there could be as many as 40 veterans whose deaths could be related to delays in care. Were you made aware of these unofficial lists in any part of your look back?" asked Miller.
"Mr. Chairman, I was not," replied Dr. Thomas Lynch, assistant deputy undersecretary, Veterans Health Administration.
Congress has now ordered all records in Phoenix, secret or not, be preserved.
That would include the record of a 71-year-old Navy veteran named Thomas Breen.
Tears, angry accusations mark hearing on delayed VA care
January: Congress demands answers
Curt Devine and Jessica Jimenez contributed to this report.

DESLOGE, Mo. – The widow of a U.S. Army veteran says her husband died of illnesses she believes should have been diagnosed by his VA doctors in Farmington.

"It's sad for the VA to treat people like that. Because they treat them like dogs," said Katherine Myers.

William Myers was a U.S. Army veteran and a truck driver for over 30 years.

"He was my best friend," said Myers.

Myers lost her husband on New Year's Day, and his death is still painful

"I go to bed at night and I cry," she said.

In a three-page letter to NewsChannel 5, Myers detailed her husband's VA health care during the last year of his life. On December 11, Myers says her husband's physician at the Farmington VA Clinic was informed that William Myers had numbness in his arm and a persistent cough.

Myers says the VA doctor did no examination about the numbness and didn't indicate anything was wrong with his lungs.

She says on December 20 an ambulance took her husband to Parkland Hospital's emergency room after he fell at home. He received a CT scan.

"That's when they came back and told me and my son that he had lung cancer and brain cancer. It shocked me. I started crying," she said.

Twelve days later, William Myers died. On his death certificate it said he had lung cancer for months. How many months, nobody knows.

Myers believes the VA should have found her husbands lung and brain cancers much sooner.

"I want to know why they waited around all year last year and the lung cancer was never brought up," she said.

The bill from the VA angered Myers even more. It's for an outpatient care visit on January 22. William Myers died on January 1.

On Tuesday we notified the VA in Poplar Bluff about this story. On Wednesday, Katherine Myers faxed permission for the VA to comment on her husband's care, but we were unable to get an on-camera response.

VA spokesperson Angela Smith sent an email, which reads, in part:

"We are very committed to our mission of providing high quality care to our veterans. We are taking steps to review our process along with the veteran's medical records to ensure our standards have been met."
03/24/2014 01:00 AM EDT

The Department of Veterans Affairs (VA) is eliminating the annual requirement for most Veterans enrolled in VA's health care system to report income information beginning in March 2014. Instead, VA will automatically match income information obtained from the Internal Revenue Service and Social Security Administration.


FOR IMMEDIATE RELEASE March 24, 2014 VA Removes Annual Income Reporting Requirement Eliminates Burden on Veterans, Improves Customer Service WASHINGTON – The Department of Veterans Affairs (VA) is eliminating the annual requirement for most Veterans enrolled in VA's health care system to report income information beginning in March 2014. Instead, VA will automatically match income information obtained from the Internal Revenue Service and Social Security Administration. "Eliminating the requirement for annual income reporting makes our health care benefits easier for Veterans to obtain," said Secretary of Veterans Affairs Eric K. Shinseki. "This change will reduce the burden on Veterans, improve customer service and make it much easier for Veterans to keep their health care eligibility up-to-date." Some Veterans applying for enrollment for the first time are still required to submit income information. There is no change in VA's long-standing policy to provide no-cost care to indigent Veterans, Veterans with catastrophic medical conditions, Veterans with a disability rating of 50 percent or higher, or for conditions that are officially rated as "service-connected." VA encourages Veterans to continue to use the health benefits renewal form to report changes in their personal information, such as address, phone numbers, dependents, next of kin, income and health insurance. For more information, visit www.va.gov/healthbenefits/cost or call VA toll-free at 1-877-222-VETS (8387). # # #
Week of July 30, 2012
A judge in Oakland, Calif. has issued a court order requiring the U.S. Department of Veterans Affairs to hand over more documents about its Cold War-era drug experiments on thousands of Vietnam veterans. U.S. Magistrate Judge Jacqueline Scott Corley said the documents requested were "squarely relevant" to the claim that the government failed to adequately notify veterans of the chemicals they were exposed to and what that exposure might do to their health. A class action lawsuit filed by the Vietnam Veterans of America and individual soldiers in 2009 claimed that the Army and the CIA used at least 7,800 veterans as human guinea pigs for testing the effects of up to 400 types of drugs and chemicals beginning in the 1950s under several project code names including "Bluebird," "Artichoke" and "MKUltra," and "Project Paperclip."
Week of June 18, 2012
Fraudulent e-mails are being sent to military members, military retirees, and civilian employees, which appear to be sent by Defense Finance and Accounting Services (DFAS). Although the email appears to come from DFAS and displays a .mil email address it is actually from a non-government email account. The e-mails indicate that individuals who are receiving disability compensation from the Department of Veterans Affairs (VA) may be able to obtain additional funds from the IRS. If you do receive a notice from the IRS, respond immediately. If you believe someone may have used your social security number (SSN) fraudulently, notify IRS immediately by responding to the name and number printed on the IRS notice or letter. You will need to fill out the IRS Identity Theft Affidavit, Form 14039.
March 22, 2012 by Jeffrey Thomas
It shouldn't take a government agency (VA) very long to verify a medical record that came from another government agency (one of the Armed Forces).  Most, if not all, of the documentation in question in these medical records has already been checked and rechecked multiple times prior to it reaching VA for a claim.  In some cases, VA has even ran tests then required the claimant to undergo the same exact tests they contract out to a civilian agency (VES – Veterans Evaluation Services) for no apparent reason other than to drag the process out even longer.   The only thing that VA is doing when they drag their feet in the claims process is costing the TAX PAYERS more money.  These claims should be processed, start to finish, within 90 days.  There is no reason to drag them out for these lengthy periods, it only causes unwanted stress and hardship on the service member and their families, which none of them deserve.
For years now the Department of Veterans Affairs (VA) has rejected legitimate claims by Servicemen on the hopes that the claimant wouldn't pursue any further action because of the length of time they (VA) take to make their decision.  In most cases, a claim can go unsettled for 12-18 months or longer.  Depending on the determination from VA that 12-18 month period gets paid in a lump sum to the claimant.  This amount could range anywhere between a couple thousand dollars ($2,000), to forty five to fifty thousand dollars ($45,000 – $50,000), to hundreds of thousands of dollars (these figures are just base amounts and do not include anything extra).  With the number of returning Servicemen this country is expecting and the percentage which will ETS or retire, wouldn't it be in VA's best interest to settle these claims in a timely manner rather than dragging them out for months or even years like our Vietnam Veterans have encountered.  Some of our Vietnam veterans are receiving million dollar checks from the government due to these ridiculous processes.
If VA is under staffed and cannot handle what is required of them to process these claims in a respectable amount of time, our Government Leaders should step in and do what it takes to make sure we are taken care of.  We, as Serviceman, never hesitated in completing our mission(s) to guarantee the safety and well-being of this country! Why does it take VA so long to CARE for US after we ETS or Retire?  One VET without a home, medical care, or the benefits they DESERVE is ONE too many!!!!!
Jeffrey L. Thomas served in the U.S. Army and Indiana Army National Guard. He retired after 22 years of service. He is married and has six children and proud grandfather of one. Jeffrey has been waiting on his disability claim for 16 months. He currently lives with a family member, receiving food stamps, and trying to stay positive.
January 21, 2012
Stars and Stripes
|
by Leo Shane III
WASHINGTON -- More than 2,200 veterans had their personal information accidentally posted on the genealogy website Ancestry.com last year, a move that could potentially expose them to identify theft crimes.
Officials from the Department of Veterans Affairs said all of the veterans affected by the mistake will receive free credit monitoring services to help mitigate any damage. The information posted online included veterans' names and Social Security numbers, but not any health information.
The department said there is no evidence so far that any of the personal information has been misused, but the agency is contacting all of the individuals involved to ensure they are aware of the problem.
VA officials supplied the information to Ancestry.com in March 2011 as part of a Freedom of Information Act (FOIA) request by the genealogy site. The records were supposed to only contain information on deceased veterans, but also included more than 2,200 living veterans due to a department error.
Department officials found out about the error just last month.
"Ancestry.com has worked with us and immediately removed all the information that we had supplied them," Jerry Davis, department chief information security officer, said in a statement. "VA places the highest priority upon safeguarding the personal information of our veterans. When lapses occur, we will immediately take prompt remedial action, such as notification."
Officials said they are still investigating why the information was mistakenly included in the records released to Ancestry.com.
Military.com reported last year that servicemembers killed in action are easy, frequent targets for identity theft because the Social Security Administration is required by FOIA to release their personal information, including full names and social security numbers, to an online database used by sites such as Ancestry.com. That information can then be used to file fraudulent tax returns.
Read more about that Military.com story here.
Individuals who believe they may have been affected by this incident have been encouraged to contact the VA. Those whose information was exposed will be eligible for a free credit report for one year.
Those veterans can access the free services by calling 1-877-322-8228 or by visiting http://www.annualcreditreport.com.
Military.com contributed to this report.
©
 This article is provided courtesy of Stars and Stripes, which got its start as a newspaper for Union troops during the Civil War, and has been published continuously since 1942 in Europe and 1945 in the Pacific. Stripes reporters have been in the field with American soldiers, sailors and airmen in World War II, Korea, the Cold War, Vietnam, the Gulf War, Bosnia and Kosovo, and are now on assignment in the Middle East.

Stars and Stripes has one of the widest distribution ranges of any newspaper in the world. Between the Pacific and European editions, Stars and Stripes services over 50 countries where there are bases, posts, service members, ships, or embassies.

Stars and Stripes Website

© 2011
August 11, 2011
The Commercial Appeal
|
by Lawrence Buser
Two former government employees have pleaded guilty in federal court in Memphis to conspiring to embezzle nearly $900,000 from veterans beneficiary accounts under their supervision.
Jack Perry, 75, and Robert Tabbutt, 67, admitted diverting funds from 10 different accounts and using the money to pay personal expenses and to gamble at Tunica casinos.
Perry had fiduciary duties over the accounts and Tabbutt is a former field examiner for the U.S. Department of Veterans Affairs.
If a veteran cannot handle his or her affairs, the VA usually will appoint a family member or, if necessary, ask the court to appoint one.
Federal prosecutor Justin Bailey said that between July 1999 and October 2008, the two men schemed to steal money from the beneficiary accounts of disabled veterans by writing checks to themselves from the accounts or withdrawing cash from the accounts.
They pleaded guilty to embezzling $896,239.43 on Tuesday before U.S. Dist. Court Judge S. Thomas Anderson. They will be sentenced Nov. 17.
"This prosecution has brought to justice these two men, who were illegally and shamefully taking benefits paid to disabled veterans for their own selfish gain," U.S. Atty. Ed Stanton of Memphis said in a news release.
"We will continue to work with the Department of Veterans' Affairs and other law enforcement partners to prosecute those who would abuse their positions of trust in order to prey on vulnerable members of our community, especially veterans."